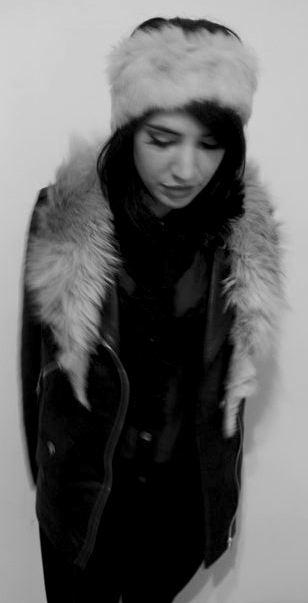 Rachel Hevey - Attiqueue
</p>
1. What are you wearing today?
I'm wearing some leather leggings a vintage band tshirt, an Attiqueue fox fur gillet and a bowler hat from Portobello market.
2. What is your favourite item bought from past Vodafone London Fashion weekends?
I wish I had more time to shop here! I bought a beautiful Jaeger lose knit cable jumper and an amazing cheap Muubi leather waistcoat, I really like seeing the up and coming designers such as NFD
3. What is your essential accessory?
My kat&bee daysayani or graha ring.
4. What new feature are you most looking forward to at Vodafone London Fashion Weekend?
Wow this is hard! I always way lots of big sliver rings and the Atiqueue reversible fur hood seems to go with everything I own!
5. Whose style do you admire?
I love the surprise when I get into London Fashion Weekend to really explore how they have pushed themselves, it gets better every year!
6. What is the best part of your job?
I am a bit of a goth at heart so Black Sabbath and any 80s rock bands mixed with some vintage and the I'm loving the Marykate & Ashley's' The Row this season.
7. What do you do on your day off?
Coming up with new designs using vintage furs, It is always a challenge to get the right cut but when it works and you see it on the models its so satisfying.
8. What is your ultimate Guilty Pleasure?
I always look for something new to do as theres so much doing on in london but I usually spend my time off drinking wine with friends
9. Where is your favourite place in London?
Portobello market is always worth a visit or if I'm in Hackney around victory park.
10. What do you love about London Style?
In London nobody is scared to express them selves and dress up! The style here is the most individual I've seen in the world.
11. Sum up Vodafone London Fashion Weekend in 10 words
Designer shopping with lots of bargains and an amazing day out!
---
Post A Comment