How To Shop At London Fashion Weekend
How To Shop At London Fashion Weekend...
 
London Fashion Weekend is upon us, ladies... That means it is time to sharpen those elbows and make fashion dreams come true. Whether you are after some British classics from Pringle, fun prints from Charlotte Taylor or awesome jewellery from Maria Francesca Pepe, you are bound to leave Somerset House with something (or perhaps even ten somethings). Exploring Somerset House's treasure trove of fashion can be a daunting task though, which is why I compiled some bits ofadvice to make your experience as pleasant as possible... I still remember the year I came home with a bag full of Luella gems. Aaaah memories.
 
- Wear comfortable shoes! I know it is tempting to wear 5 inch heels to attend the shows, but dare to resist...You are going to do lots of walking on cobblestones, so make sure your shoes are made for walking and not for falling over like a new born fawn.
 
-  Prepare your shopping expedition. Have a look at the list of brands available (you can find it here http://www.londonfashionweekend.co.uk/index.php/shop/designers) and pick a few brands that you like and focus your attention on those.
 
-  Research previous collections. At London Fashion Weekend, you will find mostly things from previous seasons. This is a great way to get your hands on someitems you missed when they were first in store.  
 
 
-  Decide on a budget according to your means. The fact that items are discounted doesn't mean you have to buy more stuff.  Remember the idea is to find pieces you like and will wear while spending less. The bigger picture? You want to create a functional and chic wardrobe, not hoard clothes.
 
-   Don't get carried away. At one point during the day you will reach your Peak Shopping Fever. This is when you will want to buy everything, even when it is too large or too small. RESIST and instead wander down to the café or go listen to a talk by industry insiders.
 
 
-  Always ask yourself "Do I need this?" This needs no explanation...
 
Now go forth and SHOP!
Style News Trend Edit
By Charlene Campbell
With the Show season buzz in the atmosphere for London Fashion Weekend the fash pack are on a high for standout trends fresh off the catwalk. We narrowed down from a large selection tipped for next season and created our top edit to shop the trends with ease.
Metallics made a big comeback with head to toe looks at Giles and separates at Felder Felder. This Hotel Particulier metallic zip up jacket nods to the trend and makes for the ultimate transeasonal buy. Perfect for everyday wear it's a biker chic approach to the look and with zipper detailing also quite popular on the catwalk this shiny buy will tick more than one trend box.
And if you feel like splashing the cash with all the style excitement in the air then match this skirt like for like with this classic Oscar De La Renta number and pair with a bright white shirt for the perfect Giles runway look.
Colours popped all over this season and with PPQ taking the lead with bold nineties influences, this vibrant yellow blazer from M Missoni is just the ticket for a colour match and statement finish to your working wardrobe. For a glam pick to up the style stakes, wear this AX Paris dress from New Look with embellishment across the body for the ultimate red carpet style.
To shop go to www.shopstyle.co.uk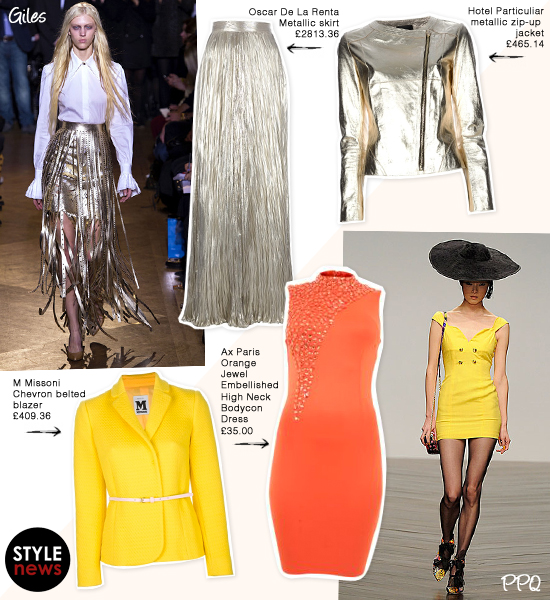 For fashion and beauty news visit www.stylenewslondon.com  
Tabitha London
Tabitha London is a brand that exudes fun. Run by a group of girls who are passionate about fashion and all things outrageous and naughty, we strive to design and create handbags and accessories that you will quite simply love to carry. Started by Tabitha Somerset Webb in 2003, the brand has grown and expanded over the years, and is now a firm favourite of girls all around the globe. We aim to make girls feel confident in how they look by offering practical bags in cool leathers with original hardware. We want you to derive as much pleasure from carrying our bags as we have in designing them!
BLINK
Vanita Parti, founder of Blink, came up with the idea of eyebrow threading bars to solve her own personal needs. Desperate to get her eyebrows threaded to perfection, she struggled to find a beauty salon in London and had to travel to the outskirts to find the service. In 2004, after leaving her brand role at British Airways, she decided to launch her first eyebrow bar with one chair in Fenwick, Bond Street.
Blink's mission has been and always will be to 'take the pain out of beauty regimes and leave women looking and feeling fabulous'. Blink certainly touched on desperate need, women loved the quick 'no fuss' service and exceptional results. Queues continue to form every day at the Blink Brow Bars, and they now shape over a quarter of a million eyebrows a year.
</p>
Peter Werth
Born in Islington, North London in 1975 Peter Werth has been part of the British menswear landscape for 35 years and has become synonymous with great British design, high quality contemporary clothing, footwear and accessories.
Founded by Peter Werth, the brand started off specialising in the production of men's knitwear, made by factories in Leicester and Nottingham. The brand drew its early inspiration from the trend setting Italian knitwear brands and factories that were starting to make a name for themselves in London during the Swinging Sixties, the ones appropriated by the early Mods - the style conscious young modern jazz fans who dressed in sharp modern Italian clothes. Peter Werth's early suiting with narrow lapels and tapered trousers, blazers and button down shirts reflected the look of this style tribe, and soon became the signature look for the brand. Never outlandish or loud, the look was always delivered with a sense of authority and understated style. Today this attitude remains the same.
LYNCH
LYNCH is the brainchild of Jaci Lynch, London based designer whose extensive fashion background includes working in RTW and accessories for brands like Clements Ribeirto in the UK. The designers passion for heritage and high quality led to an apprenticeship in bespoke tailoring at Henry Poole's of Savile Row and to a Masters Degree in Design and Technology at the London College of Fashion, with the final collection of creative leatherwork recieving much acclaim and exhibited at the Royal Academy of Arts in Jan 2008.
This background in ready to wear is explored through use of special fabrics and techniques in combination with butter soft leathers and exotic skins each season. Moreover it greatly infuences the cut of each belt to flatter the silhoutte without compromising comfort. Together with Scottish husband Iain, she launched JLYNCH in 2009 with the goal to create pieces so exquisite that defy fleeting trends, with a lasting power to inspire excitement and desire.
</p>
Alison van der Lande
Alison van der Lande swapped the high-pressured life as a successful PR consultant in London to develop her own range of elegant bright travel bags, from her Hampshire home.
"I have always wanted to create and make something, and when I couldn't find a new colourful leather weekend bag, I realised there was a gap in the market!" said Alison.
With a background in marketing, and a love of shopping, Alison then researched and developed the concept. The first collection was launched in 2005, with The Classico Weekend bag – a half-moon shaped travel bag in bright colours. Within three months of the launch, it had been snapped up by Selfridges and then The Conran Shop - Alison knew she was onto a winner.
"Stores and customers then asked for a matching hand-bag, so I launched the Bella bag and my handbag collection began". 2006 saw the launch of best-selling Daisy Doo (named after her daughter Daisy). This easy day bag now sells in thousands every year and comes in over twenty colours, from metallic, pastel, white and patent.
A luxury sports collection followed, with a range of brightly coloured tennis and golf bags, for both men and women. Since then the handbag collection has grown to include work, casual and occasion handbags and is stocked in the USA, Australia, Norway, Portugal and many more countries.
Cashmere by Tania
Cashmere by Tania is the eponymous lifestyle label founded by West Londoner, Tania Laurie. As a seasoned traveller, Tania comes from an international background and speaks five languages fluently. In the past she had lived in New York, Geneva and worked at Ralph Lauren, Paris. Having enjoyed an enviable career in fashion and experienced a range of different cultural inhibits, while looked into different eras of design, Tania established Cashmere by Tania in 1997 to expand her love for fashion and design. 

Tania looks to supply her clients with the finest quality cashmere by designing in London and producing in Italy. Her elegant collection uses only the finest premium cashmere and features a range of classic designs including: dresses, cardigans, skirts, sweaters, jackets and jumpers. Tania herself discriminates to the nth degree; she insists that the quality of materials used and the attention to detail in every collection is impeachable.
</p>
Ducie
Designer Ducie Keam-George inherited a love for all things vintage from her mother. She grew up in somewhat of a dress-up box, which was home to both the family and to her mother's abundant collection of Twenties slips, dresses and corsets, hoarded from nearby Petticoat Lane Markets and other London haunts. While her mother's innate sense of style hugely influenced key pieces in Ducie's largely boudoir-style collection, it was travel and time spent in Delhi that really initiated the conception of Ducie, the label.
The label was founded in 2004 by Ducie and her husband Dan.  They set off on what began as a sabbatical, but ended up being nine months of intensive introduction to all things fashion research and production, all the while living and working in an entirely foreign culture in Delhi.
The collection was launched later that year, and sold via a stall at Portobello Market which quickly attracted a strong and loyal client list, growing purely by word of mouth. Portobello doubled as a fantastic market research tool for Ducie, as they were able to get instant feedback from each customer on the fit and fabric, even asking which buttons and colours they preferred. Ducie & Dan spent three years between London and Delhi, gauging their clients' responses on market day – with no investment made on public relations – and making the necessary adjustments for a faultless, fully trans-seasonal collection.
Jane Carr
Often found in her namesake scarf, Jane Carr loves London style because of its 'Originality, a mélange of vintage, designer and high street, there's a freshness and creative attitude."/p>